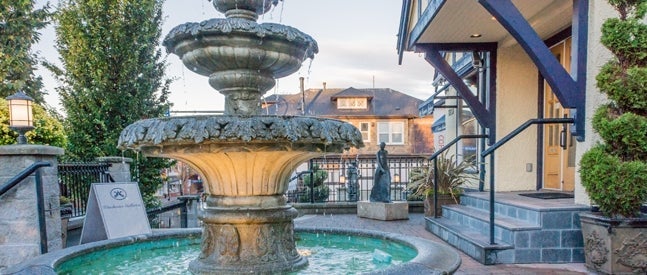 Oak Bay has always been a popular area for families to live and play in, and it's been gaining even more popularity over the past few years. It's easy to see why — Oak Bay sure has it all. Not only is it full of fun things to do and see, but almost every building and house is filled with rich history and rich architecture. Oak Bay is a fabulous blend of "old money" residents, whose homes have been in their families for generations, and new families. Even some singles have moved in who love the classic, rich feel of this wonderful neighbourhood.
Waterfront Living
No matter where you are in Oak Bay, you won't be far from the ocean! Easy-to-walk sidewalks and trails line the kilometres of waterfront. Moor your boat at the Oak Bay Marina and enjoy watching the seals lounge on the rocks, then birdwatch from the Turkey Head walkway surrounding the marina. Spend a sunny day lounging on Willows Beach or one of the many smaller beaches that dot the shore.
Recreation
In addition to all the waterfront and park trails throughout Oak Bay, you'll also want to take advantage of the recreation centres in the area. The Oak Bay Recreation Centre offers a swimming pool (with waterslide!), an indoor skating rink, an indoor soccer field, a large fitness area, and a variety of other fitness classes and opportunities. A few short blocks away, the Monterey Centre and the Windsor Pavilion also offer a variety of classes and activities for all ages and interests.
If golfing is your game, Oak Bay has you covered there as well. It boasts the most prestigious course in the whole of Victoria.
Beautiful Architecture
Driving through Oak Bay, or even just perusing the Oak Bay MLS listings, is like entering into another time period. The rich history shines through when you see all the heritage homes tucked back from beautiful, tree-lined streets. The district of Oak Bay and their residents are fierce about protecting this rich, unique history. This is why, generally, you won't see a lot of new building happening in this community.
Unique Shopping Opportunities
Taking a stroll down Oak Bay Avenue, or "The Ave" as locals refer to it, is always a great way to spend the afternoon. You'll find unique shops that sell everything from toys to chocolate as well as clothing, wine, handmade items, and prestigious works of art. And perhaps best of all, these stores are all located in heritage buildings to add an extra touch of class to your shopping.
Yummy Eats
Again, "The Ave" comes through when it comes to finding something great to eat. There are many other hidden gems dotted throughout the community, though! Local grocery stores offer fresh, locally-grown produce, butcher shops offer a variety of meats cut to order, and bakeries offer alluring sweet treats. You'll find your favourite coffee store chains here as well as discover some new family-owned must-tries. No matter what food you crave, whether it's for lunch or dinner, from pub fare to sushi, you can find it in Oak Bay.
Different Ways to Learn
Public schools of all levels are conveniently located in Oak Bay as well as a few private school options. Since Oak Bay is so family-oriented, there are several preschools and daycares in the area, too.
You don't have to be school age to enhance your learning. Head to the Oak Bay Library, located just off Oak Bay Avenue in, you guessed it, a classic building rich with heritage. They not only have a large variety of books and other materials to lend out, but they also offer classes and activities for children and adults.
Want To Learn More?
If a move to Oak Bay sounds like a move you'd like to make,
contact the Faber Group
. We can help keep you abreast of any new listings in Oak Bay.