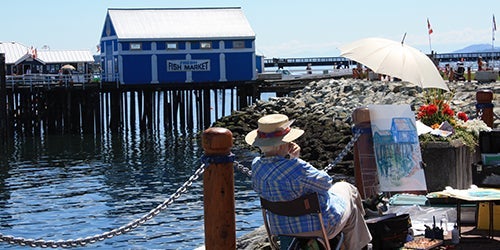 It's only about a 20-minute drive from Greater Victoria, but it's almost like entering a whole different way of living. Yes, we're talking about Sidney! And contrary to what you may have heard or even seen in decades past, it's not just for seniors anymore. You'll find a great mix of retirees, young families, and even a few singles living in Sidney.
Extraordinary Eats
Although you'll find a few of your favourite chain restaurants and coffee shops in the area, Sidney is full of unique restaurants and cafes, which are often packed with locals. Three major grocery stores ensure you'll find all your groceries, and scrumptious bakeries and other bistros line Beacon Avenue, Sidney's main street. Walk down to the end of the pier and buy a wide variety of seafood freshly caught from local waters. It doesn't get much better than that!
Shopping
Oh boy, does Sidney have some fabulous shopping spots! Again, you'll find a few of your favourite chain stores in Sidney, but you'll find a lot of charming locally-owned stores, too. These stores offer everything from sophisticated clothiers and upscale vintage finds — both clothing and other retro items — to locally-made wares like soap and other accessories. Sidney is known as "Booktown" for a reason. You'll find several amazing bookstores in the area.
And we can't talk about shopping in Sidney without mentioning the Sidney night market! This large street market is held every Thursday evening throughout the summer. The entire main street (Beacon Avenue) is blocked off so amazing artisans, farmers, foodies, and other talented locals can sell their goods. Bet you can't go just once!
Amazing Activities
If you like fishing, bowling, taking in a movie, strolling the waterfront, lounging at the spa, or visiting heritage museums and other fun attractions, you can do all of those things (and more!) in Sidney. Make sure to keep your eye on the sign outside the Mary Winspear Centre for some amazing music and theatre you won't want to miss.
Looking for exercise? In addition to all the stunning, well-kept waterfront and park paths Sidney has to offer, there are a few different community recreation facilities which offer activities for everyone. Some even cater to seniors in particular.
What About the Kids?
Your kids won't get bored any time soon living in Sidney! It doesn't matter what age your kids may be, Sidney offers all levels of schooling from preschool to grade 12. When they're not attending one of the fabulous schools in the area, kids will love playing in the many family-friendly parks and visit the numerous kid-friendly attractions. The Shaw Centre and BC Aviation Museum are especially popular for kids of all ages. The Sidney library also offers several programs and activities for young readers.
Every Style of Living
People love living in Sidney, and it's evident when you walk down the street or meet someone from Sidney. The activity centres are hopping and quite a few of the locals volunteer within their community.
If you're browsing MLS listings, you'll notice Sidney has a wide variety of homes which range from small condos to sprawling waterfront properties and almost everything in between. So, whether you're looking to downsize and retire quietly, or you're looking for a home you can raise your large family in, you'll find it here in Sidney.
If you're ready to move to Sidney or even if you'd simply like to look further into the area,
contact the Faber Group today
. We've got special access to new listings and can help you find the best home for your needs.