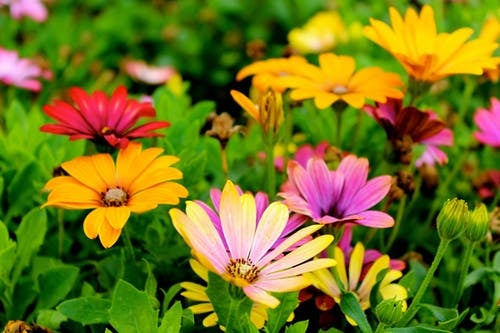 Can you feel it? After a snowier than usual winter, spring is
finally
here! It's time to soak up the sunshine and tend to your garden. If the winter did a number on your garden, or perhaps you've never bothered with it before, now is the
perfect
time to start.
At the
Faber Group
, we're not just here to help you sell your home or find a house for sale, we also love to help you make the best of the home you live in!
Start By Cleaning Up Your Yard
Victoria experienced some heavy winds over the winter. As a result, you might have a lot of debris like branches and leaves, and may even have some damage to your yard.
Plot Out Your Garden Space
Take a good look around your yard. Think about not only where you'd like to see your garden, but where it'll thrive, too.
Healthy, thriving gardens receive at least 6-8 hours of direct sunlight most days. You should also keep them sheltered from the wind, provide proper drainage, and water them often.
You may also want to have some raised planters or large pots in your yard or on your deck. Find the best areas to build/place these, and consider using some wire fencing to block off other parts of your garden.
Visit Your Local Garden Stores
Check out your local garden stores to figure out what'll work best in your garden. Take advantage of the knowledge the employees have to determine which flowers and plants to get based on your type of garden and soil.
Talk to the pros about the plants, as well as fruits and vegetables, you're considering, and let them suggest a few you may not have considered. You'll end up with a wonderful variety!
You'll then have to decide if you want to start with seeds or with starter plants to grow your garden. Either way, make sure you pick up the organic fertilizers your garden centre recommends.
Consider springing for some new garden tools while you're there. Having proper tools that are suitable for your garden will make planting, weeding, and anything else much easier.
Consider the Wildlife
Victoria has a huge deer population, and they like to eat garden flowers. So if your garden is in your front yard or another unprotected area, chances are that the deer and possibly other wildlife will stop by. Ask the garden experts which plants and flowers are less popular with your area's wildlife.
Bees and insects thrive in gardens and are unfortunately finding fewer places to go to eat and pollinate, so if you can, help them out by planting some flowers popular with bees.
Talk to Us at Faber Group
Do you have dreams of having a large, flourishing garden but have little to no garden space? It may be time to move to a home with a bigger yard! The
Faber Group
can help you navigate through the MLS listings to find houses for sale which may be right for you.
If you're only considering moving in the next few years, it's still a smart idea to fix up your yard and garden to get some of that much-needed curb appeal. The
Faber Group
can answer any questions on what home buyers are looking for when searching through all the houses for sale.
Contact us today
for more information or to find the property of your dreams!