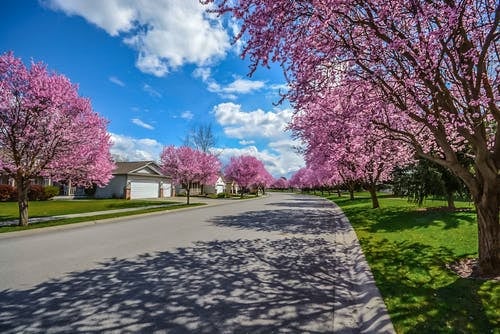 You might be up to speed on
things you should consider before buying a home
, but have you decided the type of community you'd like to live in? Choosing between suburban and urban living is an essential part of the home buying process.
They each have their pros and cons and offer completely different living situations. So, here are a few factors you may want to consider before you start looking at homes for sale.
How Much Do You Like to Commute?



One major thing you need to think about is how far away you're willing to be from your daily activities. Sure, you may find a house you love at an attractive price out in the suburbs – but if you work downtown, you may begin to dread the commute.
If your kids attend social activities in a particular part of town, you may need to drive them, or they'll have to use public transportation. This can add up in cost — and time.
Although we've seen more families choose to live downtown over the past few years, suburban areas are still where many families choose to live.
You'll likely find more options for schools, parks, and activities for kids and teens if you live in a family-based suburban neighbourhood.


How Much Room Do You Need?



If you're looking at homes for sale in an urban area, there's a higher chance that you'll have to settle for a smaller house or even a condominium. So if you're looking for a yard or your own green space, you might be out of luck.
If your family needs a yard and more than three bedrooms, looking at homes for sale in the suburbs may be a better choice for you.


Are You Alright with Noise?



Urban areas are generally noisier than the suburbs. Traffic, nightlife, even tourists can make more noise.
The suburbs can offer a quieter, slower pace of living. So, while you'll probably hear the sounds of kids playing by day, nighttime should be quiet and serene.


How Social Are You?



This is a bit of a trick question! If you choose to live downtown, you'll have plenty of social opportunities because you're always surrounded by activities and people. However, you may not ever actually get to know your neighbours.
However, out in the suburbs, your neighbours will want to get to know you. Some suburban neighbourhoods even have block parties and neighbourhood activities for families.


Do You Have Pets?



If you have a pet, or you're dying to get one, you must remember that not all places accept pets.
Yes, even if you own your townhome or condominium, the strata can specify no pets – especially dogs. Plus, if you live downtown with a dog, you may find it hard to take it for walks or find convenient places to play.
When you buy a home in the suburbs you can have a dog – or as many pets as you want! You'll likely have a yard and local parks so your dog will have plenty of space to frolic.


Call Your Qualified MLS REALTOR®!



We get it — it can be tough deciding where to live. With a better grasp of the different communities, you should have a better idea of where you'd like to start your search.
If you have any more questions about urban or suburban living or would like to get started on your house search,
contact us at the Faber Group
today!