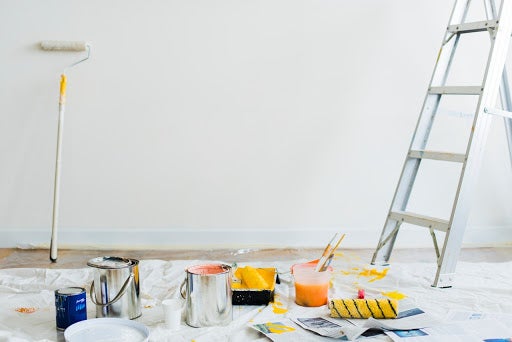 Your basement should be so much more than a general catch-all space for things you aren't currently using. It's true — your basement truly is an untapped gem of your home.
You may be looking to add a few more bedrooms, a home office, or a family room type space for everyone to enjoy. No matter what you want your space to end up looking like, there are a few things to do before starting your basement renovations.
Clean It All Out
If your basement looks like the average person's, you've got a hefty task at hand. But if you're going to transform this area, you simply can't work around everything that's in it.
Chances are you could do without 70% of what you have in there. You're likely just hanging onto many things because you have the space to store it. Keep only a small area for storage and donate/sell/throw out everything else.
Check For Moisture
You certainly don't want to spend a bunch of time and money on a basement renovation only to find out your space has a leak or a moisture problem. Search for signs of cracks and other areas where moisture can seep in. You may need to insulate and waterproof your walls to prevent any water or air from seeping in. And make sure your drains and water spouts direct away from your house and not down the side.
This step is seriously worth getting a professional to check everything. Water damage is tough to fix.
De-pest It
Critters love basements. So, you may need to set up some traps to capture any bugs or rodents taking up residence in your basement.
If you're going to do some major basement renovations, you may need to obtain building permits from your municipality. Each area has its own rules, so it's worth double-checking before you start.
Check With Your Municipality
If you are going to do some major basement renovations, you may need to obtain building permits from your municipality. Each area has their own rules so it's worth it to double check before you start.
Plan Your New Layout
You've decluttered, so now you can see how big your space is when it's empty. You've sealed and insulated the living areas, and you're ready to start deciding what's going to go where.
Plan on building some walls and consider carpeting if you're using the area as a family room or an extra bedroom. Your laundry room and any designated storage areas don't necessarily need to be finished if you're trying to save some money.
Get Quotes Or Buy Supplies
Maybe you're going to use your basement as a general area and don't care if it's finished. Or you could be quite handy, so you're planning to build it yourself.
However, it may still be worth getting a few quotes from professional contractors. They may suggest something you hadn't thought of. It's also possible that paying a professional may work out better than spending the time, money, and energy it would cost to do it yourself.
Consider a New Home
We're not all blessed with a basement — finished or unfinished. Not everyone is handy enough or has enough time and energy it takes to do a basement renovation. If an unfinished basement is something you lack but is high on your list of wants or needs, it may be worth looking for a new home which can serve all your needs.
Your qualified MLS REALTOR®, like us at the
Faber Group
, can help you decide if it's best for your family to make a move.
Contact us today
with any questions or to look for houses for sale.