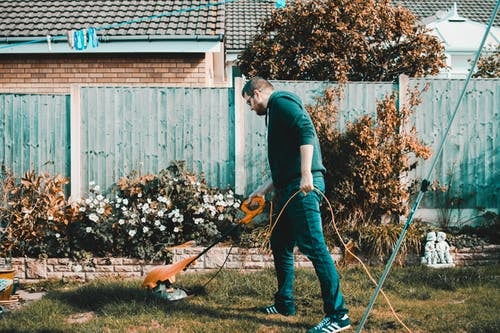 In the wintertime, you certainly know that you need to keep
your home winter-safe
. But in the summer, is it OK if you sit back and relax?
Unfortunately, maintaining your home during the summertime means more than watering your lawn and garden. There are a few things you need to do to keep your home in tip-top shape.
Groom Your Garden
Even if you decide not to grow flowers, it's vital you get control of your weeds and keep your lawns, bushes, and trees trimmed back. And summertime is a great time to get on top of all that so it doesn't get too out of control during the other seasons.
Repair Your Deck & Walkways
During the summer, you probably have a lot more people using your deck and walkways around your home. So, it's essential you fix any loose boards, seal any cracks, and trim back any weeds growing up around your walkways.
And if you haven't already done a power wash on your driveway and patio, it's not too late. This will help in warding off any moss, weeds, and it generally makes everything look a lot cleaner and fresher.
Clean Out Your Crawl Space
We know it can be scary to get down into your crawl space, but summer is probably the best time to do it if you have to.
You'll want to inspect it for any water, or other types of damage. And make sure there are no nests or any other rodents down there.
Purge & Organize Your Garage
We know your garage probably turns into a catch-all space from all your year-round gear. But summertime is a great time to clean and purge everything out.
If you can, take everything out and put it in your yard and driveway and sort through it all. Put back in – and organize – what you need to keep and donate or sell the rest. Summer is a great time to have a garage sale.
Screen Your Screens
Take a good look at your screens before you need to use them. After all, you want to keep the bugs out!
Sometimes, screens warp and peel during the cold, windy winter months, so you may find they don't fit well anymore. Plus, you may discover holes you didn't see last year. 
Depending on the damage, it's relatively easy to repair screens. You can get a kit or other supplies at your local hardware store. But some may be damaged beyond use so you may need to measure and buy new ones.
Do Any Other Maintenance
If you need new windows, now's the time. You don't want to have anyone take out your windows — even for a few hours — during the cold winter. Imagine what that would do to your hydro bills!
If your home needs a fresh coat of paint or a new fence, doing this in the summertime is likely easier than any other season. Rain and cold can hinder your job and paint will take much longer to dry in damp weather.
Look around to see if there's any general maintenance you should do on your home before the fall brings rain and colder temperatures.
Get Your Home In 
Vacation Mode
Chances are you're planning at least a few day-trips this summer, if not a longer vacation. Before you leave your home for any length of time, you'll want to ensure all your windows and doors have proper locks and are adequately sealed.
It's also a good idea to keep bushes and trees cut back enough so they don't block any windows. You also don't want them to reach your second-floor windows. You certainly don't want to make an upper window an easy access point for potential thieves.
Of course, these preventative measures can only go so far. You'll need to stop your paper and have a neighbour collect your mail and generally keep an eye on your home.
Have a Great Summer!
We know it can seem a bit daunting, but doing these few things at the beginning of summer will help keep your house in great shape and allow you to enjoy your summer that much more.