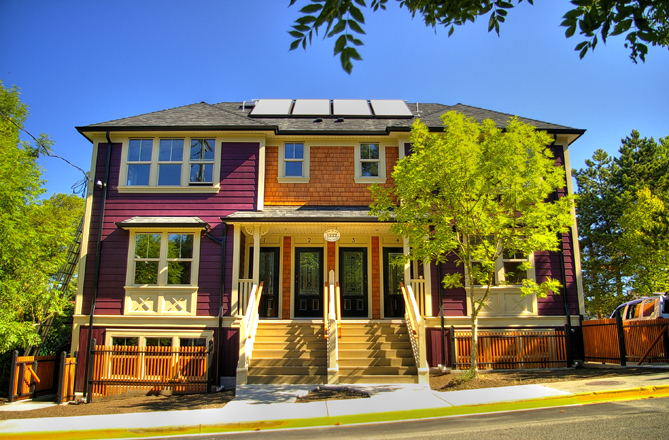 In the last decade or so, Fernwood has undergone an enormous transition and is now known for being possibly the most unique, quirky community of all the Victoria neighbourhoods. 
It's located close enough to downtown to make walking, bussing, or cycling there for work or play both quick and easy. Yet, it's just far enough away from downtown that you're not bothered by the bustle of the city.
Community
Quirky is a great word to describe this vivid community (that's why we used it twice!). You'll find people from all walks of life in this Victoria neighbourhood. Families, retired seniors, couples just starting out, and singles all love to call Fernwood home. Everyone fits in here and works together to make it a great neighbourhood to live in.
Dotted throughout Fernwood, you'll find painted telephone poles, community gardens, and other unique spaces lovingly created by residents of the area. People who live in Fernwood are incredibly proud of their community and love to keep it feeling safe and friendly.
The local community centre offers some local food programs, fitness classes for all ages, family support programs, and a place where you'll often find craft fairs and other workshops.
Fernfest
is a yearly event put on by the community which brings in residents from all over Victoria to enjoy music, art, food, and a lot of fun.
Parks & Recreation
You'll find some newly-renovated green spaces dotted throughout Fernwood. And a few of these have some entertaining play structures for kids!
It's an easy walk to the local recreation centres located a bit closer to downtown. And the area has a high walkability score with its new sidewalks and paths.
Arts
The iconic
Belfry Theatre
is located in a fabulous heritage building in Fernwood Square. The theatre puts on shows year-round by both local and international talent and often get rave reviews.
You'll find quite a few shops from local entrepreneurs dotting the area that showcase arts, crafts and plenty of other services based on health and wellness. And as we already mentioned, the community loves to take any opportunity to create a beautiful artistic space in the neighbourhood.
Education
The area has all levels of schools from elementary to high school within a few blocks of each other. You'll also find plenty of daycare and preschool options in the neighbourhood, so you're covered for years to come.
Food
The local pub is a great spot to get together for a pint, a tasty meal, or to attend one of the quiz or paint nights it often hosts. You'll make friends with all the locals at the incredible coffee shop and popular café that's centrally located. The local eatery fits right into the neighbourhood and provides fresh food with an artistic flair.
You'll find a few grocery stores as well as bakeries and other specialty food options just a few short blocks away.
Feel Like Making a Move to Fernwood?
We really love this Victoria neighbourhood! Wartime homes, brand new homes, condominiums — indeed, there's a wide variety of unique homes available to you in this area.
Contact us today
to let us help you navigate the MLS listings to find your dream home in this incredible area.